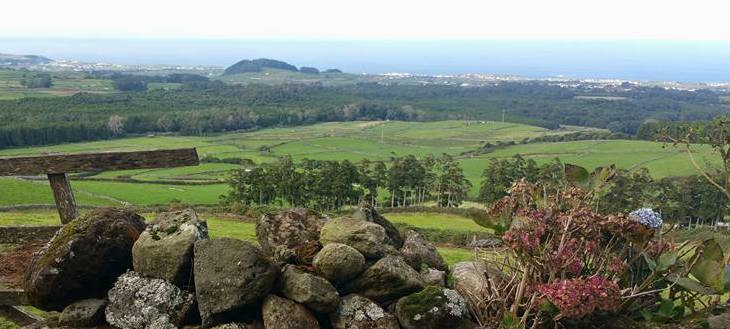 I just recently returned from a vacation in the Azores. This is one of Portugal's two autonomous regions, consisting of a series of nine volcanic islands. Although these beautiful islands allow for plenty of high-energy activities, such as biking and hiking, my friend and I were commenting on how anyone could enjoy the beauty of the majestic Azores Islands no matter their age or fitness level. This is because some of the most beautiful vistas we saw were simply when we pulled off to the side of the road at a lookout.
After returning home to fall being in full blast, I started thinking about how it's my favorite time of year to get out and enjoy nature. The weather is not-too-hot, not-too-cold, not to mention the colors! So I thought I might share some fall fitness activities that all involve getting out of your house, moving around and enjoying the outdoors, with options for any fitness level. As you will soon see, there are so many things to do outdoors in and around Maryland to help you stay fit in the fall.
Take a scenic drive and explore the destination
My absolute favorite thing anyone can do in the fall is take a scenic drive down Skyline Drive. Some people don't realize it, but you can reach Skyline Drive from our area in just over an hour (assuming you go on the weekend when there is no rush hour traffic). The nearest entrance is Front Royal, but my favorite entrance is Thornton Gap. Thornton Gap is a little over two hours away.
Depending on which way you approach the entrance, you can stop at Thornton River Grille in Sperryville, Virginia. There, you'll find a cute restaurant, a delicious, more casual pizza place and the cutest little country store.
Embrace your inner tourist
Don't forget you live in a place where people from all over the world dream of visiting!  If you've never had a chance to visit the museums and monuments in DC, take advantage of the off season and lack of summer crowds and do it while it's nice out. Get a little outdoor fitness AND a little culture all in one day!
Plan a day of hiking
I love a good hike because I can simultaneously get active physically and calm down mentally– nature is just so peaceful. We have several nearby hiking options at a wide range of intensity levels. Here are some of my favorites: 
If you are pretty fit, not too far away you can hike the famous 9-mile Old Rag trail. This is one of the most beautiful and enjoyable hikes within driving distance of us. Fall is the perfect time to do it since the not-too-hot weather helps ease the difficulty of the hike.
If you want a bit of a strenuous hike that is closer, try walking along the rapids of the Potomac River at Great Falls on the Billy Goat Trail Section A. An added perk of this trail? You can head across the street afterward to The Old Angler's Inn and have a glass of wine or hot chocolate around the outside fire pit to reward yourself and relax.
Rose River Loop

If you'd prefer a more moderate hike, I recommend the 3.6-mile Rose River Loop near Skyline Drive. This trail goes along waterfalls and the Rose River for nearly continuous views of running water.
Stoney Man Trail

If you want something even easier, Stony Man Trail leads you to a beautiful vista and only takes about an hour to complete. However, if you decide to hike Stony Man, keep in mind that no pets are allowed.
If you really prefer avoiding going up or down hill, there are some really nice nature trails at both Skyland Resort and Big Meadows, along Skyline Drive. Anyone who can walk can do these trails.
RELATED – Gain Peace, Happiness, and Better Health from Meditation
Hit up your local farmer's market
We have plenty in our area, but if you want to take a little adventure into the city, my favorite is Eastern Market. There, you can get beautiful flowers, fresh seasonal fruits and vegetables, and homemade cheeses. You can even find vendors that sell beautiful jewelry, pottery and art.
Hop on your bike and hit the trails
We have several great destinations and bike paths for outdoor fitness in the area:
If you head to nearby Cedarville State Forest, you can find trails that range from very, very easy to a little rolling up and down through the woods.
The 11-mile Three Notch Trail is another paved trail that runs from Hughesville to Lexington Park.
So whether you're a fitness connoisseur or you're just looking to step outside the house for a bit, there are many ways to enjoy fall. I hope some of these fall fitness activities inspire you to get active and enjoy the fall season in more ways than just drinking your pumpkin latte! But hey, you can always bring it with you.